arieeel – listen to me. the human world is a mess.

sebastian
why we chose mermaids for our october film programme
i feel like i'm not alone when i say that mermaids played an important role in my childhood. perhaps it's more of a growing-up-as-a-girl-in-the-2000s thing but i don't want to make it a gendered thing – surely everyone at some point dreamed of living under the sea and being a fish and whenever they went swimming imagined they were collecting shells to make into mermaid bras! now that i say it aloud, maybe it is just me…
regardless of my watery childhood, humans over all time have been fascinated by these mythical water creatures, and some great mer-stories have been told – whether its a but-i-swear-this-was-amazing kind of film, or an actual quality piece of filmmaking. these stories tend to be born from much more ancient texts. over time, mythology and fairytales have tended to blend the siren and the mermaid to become the image we expect: beautiful fish women who lure men to death through song.
the odyssey
take a look at homer's the odyssey as the first. he writes of two sirens, formed as half woman, half bird, who attempt to seduce odysseus with their song – he only escaped by filling his crew's ears with wax and tying himself to his mast so he could not sail towards them.
O, BROTHER WHERE ART THOU by the coen brothers is (despite the brothers claiming not to have read it) based off of homer's poem.
this great short by german director klaus georgi also takes the sirens from the epic and shows them through time; it is a display of the unchanging, dangerous lust of men; the lure of mysterious women, the craven responses of being at sea; and the way the world changes and forgets to look up and see the damage that's happening – all in 4 sweet minutes. see how these ideas appear in most of these mermaid themed films.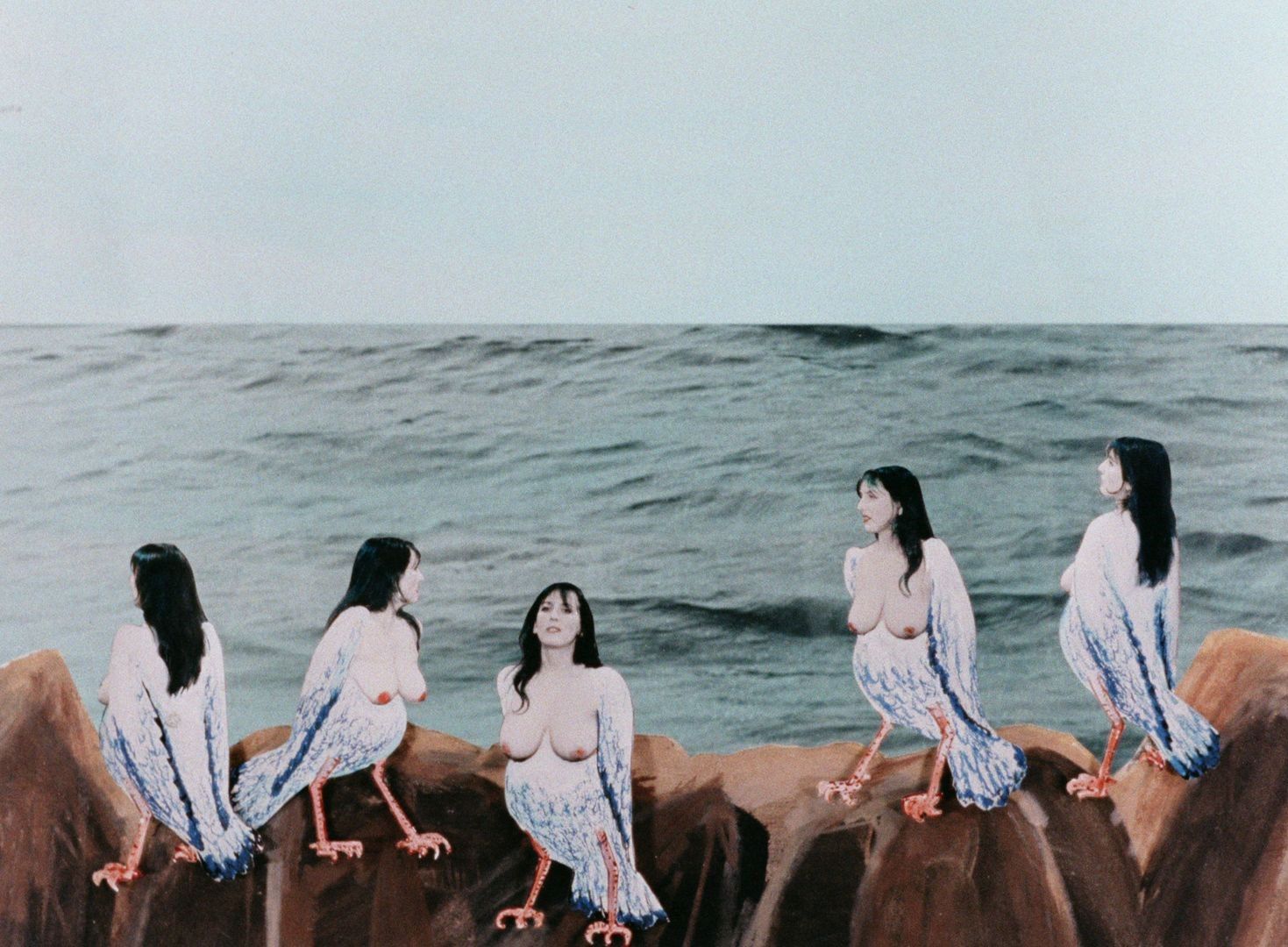 the little mermaid
secondly, is hans christian andersen's 1837 fairytale the little mermaid. the actual story is a lot darker than the disney adaptation. her deal with the sea witch includes:
her tongue being cut out (no cute necklaces here)
constantly feeling like she's walking on daggers
and if the prince does not love her in return, she does not receive an immortal soul and…
she turns into sea foam.
once the prince marries someone else, her sisters give her a dagger to stab him and let the blood rush over her feet so she can return as a mermaid. however, because of her love for him she jumps overboard and stabs herself instead, but instead of turning into sea foam, finds herself turning into a daughter of the air with the chance to gain a soul because of her selflessness – we do love a fairytale that is secretly a method of scaring children into being good…
two of the films in our shortlist are based upon this tale, and there are more on our letterboxd list! let us know what you've seen

dm us or drop us a message if there are any other films you'd add to this mermaid list
okay technically our featured film under the theme of mermaids and also titled MERMAIDS is not really about mermaids. but cher dresses up as one for a halloween party and its october and there is a strong water theme so i will fight anyone who tries to take this away from us.
this is a fantastic mother-daughter film which looks like a joy to work on. cher plays mrs flax, mother of two and serial run-away-after-a-bad-date lover. on their sixteenth move in almost as many years, cher mrs flax, charlotte (ryder) and kate (ricci) move to massachusetts which charlotte is gassed about because she's catholic obsessed and the new place is near a convent. kate is a water baby who wants to beat the world record for longest time under water. this is a coming-of-age comedy about love, fear and dirty internal monologues. after this u will want a new wardrobe and every time you ask for a drink u will say 'hit me sergeant!' c u there
~amy
i don't know if you can get more 2006 than having jojo – as of 'leave (get out)' fame – and the star of the early noughties emma roberts in a film together. make it about a mermaid who's in love with a hot lifeguard, called raymond (who later plays the maths teacher in LADY BIRD) and you've got a winner.
claire (roberts) and hailey (jojo) are best friends about to be separated due to hailey moving to australia. she's praying to the ocean god for a miracle when a gigantic storm hits and low and behold the girls find a mermaid in the pool! she's called aquamarine and must find true love within three days otherwise she has to be married by arrangement of her father. and of course, if you help a mermaid they can grant you a wish. and so, the adventure to get aquamarine laid begins! favourite moments include the line 'you scared the salt out of me!' and the girls all having talking starfish earrings that constantly call them hot.
i saw this at the cinema for my ninth birthday party and ngl it did bits for my popularity.
~amy
so i give you fair warning before we belay / way aye blow the man down / don't ever take head of what pretty girls say / give me some time to blow the man down
in this dark comedy thriller, written and directed by bridget savage cole (we love a thematically-fitting name, don't we girls) and danielle krudy, two grieving sisters attempt to cover up a gruesome accident. described in rolling stone magazine as a 'maine noir', this is a clever murder mystery (less mystery, more thrill) slash feminist parable underscored by a greek chorus of shanty singing fishermen.
~ro
this breath-taking fantasy adventure from studio ghibli is based on the tale of the little mermaid.
PONYO follows the adventures of young boy named sōsuke. amidst a vibrant coastal town, sōsuke comes across a small fish-like being trapped in a glass jar and naming her ponyo. however, he soon finding that this is no ordinary fish, but a magical fish! we follow the two through the world as ponyo discovers the human world and watch their blossoming friendship.
however, it is not all joy as ponyo's father sets out to find his daughter after believing she has been kidnapped. it is a story of adventure, giant waves and friendship, with an exceptionally colourful cast of characters and most importantly ham.
an exceptional piece of filmmaking and animation to enjoy and snuggle up to. PONYO is a must watch poetic fairytale for animation lovers and one of the most underrated features that both miyazaki and studio ghibli have produced. a truly unmissable film.
~jake, guest writer and animator
THE LIGHTHOUSE is based on the true story/legend of two lighthouse keepers that became stranded on a remote new england island during a freak storm. robert pattinson's character, the new wickie, arrives for a short tenure on the island before becoming stranded there with the keeper (willem dafoe).
the fog restricts their vision, the wind smothers their hearing and the storm prevents them returning to land for more food. soon, the hunger and booze-driven hallucinations begin to dismantle the men's sanity. it's possible to explain the film as a conceit in which the wickie is subjecting himself to purgatory (the island) for something in his past, with dafoe representing the part of our minds that rips us to bits – but it's also good to just experience this film. trust me, the sound design is overwhelming. turn it loud. the cinematography is equally magnificent. you will feel as trapped as they do. p.s. i dare you to try and out-stare willem dafoe in this.
~dunc
agnieszka smoczyńska's bold directorial debut is a genre-defying horror-musical, which, like PONYO, is loosely based on the 1837 fairytale.
in an alternate 1980s warsaw, a pair of man-eating mermaid sisters emerge from the water to explore life on land. their hypnotic siren songs and youthful beauty make them overnight sensations as cabaret night club singers. while one fish-tailed sister seeks to love humans, the other has an appetite for very different indulgences. this is a twisted, synth-pumped coming of age fairytale that confronts the audience with the uncomfortable question of what is a girl when not yet a woman and what if she is also a fish? that eats men? (wonder how britney would sing that song…)
~ro
this tale of a family's inner turmoil and strife after the loss of their wife and mother is produced by the irish animation company cartoon saloon and directed by the award-winning animator tomm moore (WOLF-WALKERS and BREADWINNER).
a poetic fairy-tale based around irish folklore is filled with imaginative set pieces, a unique and colourful art style, plus a wonderful music score. ben is the young, disgruntled son of a heartbroken lighthouse keeper who blames his mothers death on his younger mute sister, saoirse. his hostility towards saoirse results in him scaring her with tales of the mac lir and the owl witch who stole mac lir's feelings and turned him to stone. however, saoirse is no ordinary girl, but magic! her place is with the sea and the seals.
SONG OF THE SEA is a magical journey full of mystery and a tremendous exploration of irish storytelling and legend. its poetic style will make you laugh, tear up, want to visit ireland and adopt an old english sheepdog named cú.
~jake, guest writer and animator
talk about coded queer. disney have teased us over the years with characters like jafar, li shang, elsa and ursula, but this film takes it to a whole new level with two main characters learning to understand themselves together. it's so obvious, it makes me wonder why disney pixar didn't just commit to them being gay? it's 2021 now disney, it's okay to be out. we got you.
LUCA is a truly touching story following two young boys exploring a cute italian riviera town, just making friends and having a fun kiddie summer. the only problem is that they share a secret – they are sea monsters from the world under the surface (get it? sea monster = gay).
this film is a refreshing, low-stakes (well…) personal story without extreme action sequences or complicated narratives. it's just so cute and lovely and made me cry lots. so sad this didn't get the theatrical release that it deserved. deffo give it a watch
~ dunc.
the year is 1866 and expert marine biologist professor arronnax and his assistant conseil are sent on an expedition in search of the mysterious sea monster reportedly sinking ships in the pacific ocean. this beloved picture is disney's adaptation of jules verne's classic 19th century novel of the same name. someone on letterboxd said that martin scorsese showed 20,000 leagues to his daughter to inspire her to work in film… this may or may not be true but it's a nice thought.
~ro
when the film's tagline is 'half fish, half human, 100% assassin' you know it's going to be excellent. when it's originally released in 3d, you know it's going to be very excellent. and the fact it is made by stephen chow, director of KUNG FU HUSTLE, makes those comments not ironic. this zany comedy / romance / eco-warrior thriller was the second most popular film at the international box office in 2016 and is absolutely worth a watch.
liu xuan (deng) is a disgustingly rich playboy who has just bought a wildlife preserve and plans to build on it. However, the ancient mer-people who live in there start plotting ways to kill xuan. mermaid shan (yun) is sent to assassinate him but, aside from being a terrible shot, she starts to fall for him. chow simultaneously dissects the chinese new wealth and the climate crisis through a brilliant slapstick. expect a stupid amount of cgi and ridiculous situations.
i'm quite keen to do an amazon watch party of this, let us know if you want to join!
~amy
firstly let's just take in this poster. wow.
NIGHT TIDE is the film that brought mermaids into the horror genre. watch hopper in his first starring role as sailor johnny drake, who meets mora at a jazz club. she tells him she is a siren and is being called back to the sea by the sea witch to fulfil her destiny of luring sailors to their deaths. despite warnings, johnny continues to get to know mora and thus harrington's script named from a line in an edgar allen poe poem turned into a career-launching film.
if you want a good halloween mermaid film, watch this.
~amy